As a writer and artist, I'm interested in the confluence of stories and visual art, often through the perspective of the natural world. I like to blend personal narratives and artwork together. For example, in collaboration with Lauren Kindle, I've painted portraits of strangers and their stories for a project called Intersections.
Seams: A Paper Quilt Project, Women Scientists and Artists
Recently I've been working on a project called "Seams," which is a series of narrative paper quilts made of thread, paper, and watercolor. This project was supported in part by the Pennsylvania Council on the Arts, a state agency funded by the Commonwealth of Pennsylvania and the National Endowment for the Arts, a federal agency. The Seams Project will be on display from March 2 – May 11, 2018 at Nurture Nature Center in Easton, PA.
This project was inspired by six women who, like me, are both artists and scientists. I was interested in creating visual work about the value of cross-pollinating ideas in order to expand one's own sense of possibility. This project, at its heart, is about identity gained through breaking barriers. Each art quilt incorporates themes from nature to accentuate common experiences.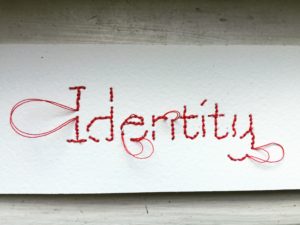 There are nine different small art quilts in the series. I've chosen to work with paper because it's a flexible medium that serves new and mature ideas equally well. The work is fragmented, patch-worked, patterned, and layered. The series draws on textile traditions of sharing life experiences. Each art quilt is hand-painted and hand-sewn.
I began work on the project in late 2016 by interviewing six local women who are both artists and scientists (or mathematicians). Some of these women are self-taught either in the arts or the sciences, but each has done meaningful work in both fields. These women include the following::
Click on the links above to see interviews with each of these women. (Note that Jenn Rossmann has requested her interview be kept private.)
In addition to the six art quilts inspired by interviews with these women, the series includes two community response quilt pieces. I asked community members to respond to two prompts related to identity. These were:
1) Describe yourself in three words.
2) I would like to be more ________.
I incorporated both the prompts and responses into additional two art quilts. The ninth and final art quilt in the series is based on my personal experience as an artist.
Exhibitions
2018 Solo exhibition, Nurture Nature Center, Easton, PA

2016 New Hope Art League 7th Annual Juried Show (honorable mention)

2016 Joint exhibition of Intersections Show (with project collaborator, Lauren Kindle), Quadrant Book Shop, Easton, PA

2015 Solo exhibition, Cosmic Cup Café, Easton, PA

2015 Bucks Fever Juried Art Exhibition, Warrington, PA
Some of my other paintings are shown below. If you'd like to purchase an original please contact me directly.