The Promise of Pierson Orchard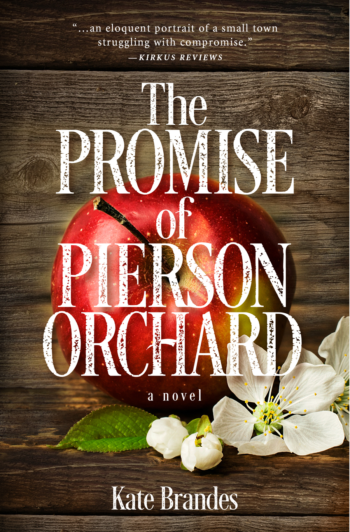 Buy This Book
Kate Brandes is represented by Katie Shea Boutillier of the Donald Maass Literary Agency.

"An expertly paced, moving exploration of grief and responsibility and an eloquent portrait of a small town struggling with compromise." — Kirkus Review
This story is about a Pennsylvania family threatened by betrayal, financial desperation, old flames, fracking, and ultimately finding forgiveness.
In the novel, Green Energy arrives, offering the impoverished rural community of Minden, Pennsylvania, the dream of making more money from their land by leasing natural gas rights for drilling. But orchardist, Jack Pierson, fears his brother, Wade, who now works for Green Energy, has returned to town after a shame-filled twenty-year absence so desperate to be the hero that he'll blind their hometown to the potential dangers. Jack also worries his brother will try to rekindle his relationship with LeeAnn, Jack's wife, who's recently left him. To protect his hometown and to fulfill a promise to himself, Jack seeks out his mother and environmental lawyer Stella Brantley, who abandoned Minden—and Jack and Wade–years ago.
When LeeAnn's parents have good reason to lease their land, but their decision leads to tragedy, Jack must fight to find a common ground that will save his fractured family, their land, and the way of life they love.
Some reviews of THE PROMISE OF PIERSON ORCHARD:
"The Promise of Pierson Orchard is a wonderful read, compelling, and surprising, and sparkling with insight. I devoured it in a single afternoon, and my guess is that you will do the same. Or you may decide to savor Kate Brandes's fine writing over time. Either way, I envy you the treat of reading it fresh." – Robin Black, award-winning author of LIFE DRAWING
"Kate Brandes' beautifully crafted story maps the town of Minden, PA with compassion and insight. Her characters feel as real as people you know, and as their lives are tested, broken, and patched together, she evokes the enduring bonds that tie us to our families, our communities, and nature itself. This is a lovely, stirring novel. " – Alix Ohlin, highly acclaimed author of THE MISSING PERSON and BABYLON and OTHER STORIES
"Capably following in the footsteps of Barbara Kingsolver's Prodigal Summer, Kate Brandes marries flora and family in The Promise of Pierson Orchard to craft an unmistakable sense of place in an evolving environment. This paean to pastoral roots torn asunder by capitalist yearnings is equal parts promise and prediction for our fast-changing future."—Ellen Urbani, author of LANDFALL and WHEN I WAS ELENA
"The Promise of Pierson Orchard is a well-tended story about two brothers who love the same girl and were disappointed by the same woman–their mother. When life brings them all back together again, old wounds are re-opened and regrets bubble to the surface. As sweet and tart as the apples grown in an orchard so vivid I felt as if I had been there, this novel is sure to please fans of family-driven fiction."–Catherine McKenzie, bestselling author of HIDDEN and FRACTURED
"Newcomer Kate Brandes delivers honest, shades-of-gray storytelling in The Promise of Pierson Orchard. This is a nuanced tale about the rise of poison in one fractured family, and how high-pressure situations can clarify what's most important to us. You'll remember these complex characters long after you've finished the book." — Therese Walsh, author of THE MOON SISTERS and THE LAST WILL OF MOIRA LEAHY
I've also published creative non-fiction. The Poker Player is about family and poker.